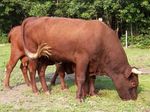 The 2014 Annual Meeting

The American Milking Devon Cattle Association held its annual meeting on Saturday, May 10, 2014 at the town hall in Tunbridge, Vermont. The Board of Directors reported to the membership. There was an opportunity to discuss subjects of importance to the breed.
Edited recordings of some of the proceedings are available as follows:--
More recordings are still to be added.